Testimonials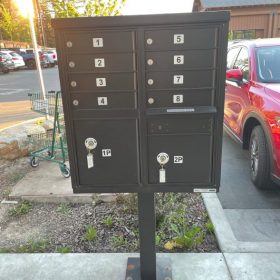 It was a pleasure to do business with this company. I got the best price, delivery was on time and quick. Installation went very smooth with no problems.
Robert Kushner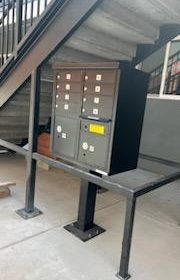 These guys shipped everything on time, they called me to let me know exactly how they were shipping the product and did exactly what they promised. And their product was excellent quality.
Brian McNay
I purchased two mailboxes from them and it was a smooth straightforward transaction I am happy with my mailboxes and I would buy from them again they made the process very simple.
Robert
Las Vegas Apartments Corporation
Las Vegas Apartments Corporation
The price got me to purchase, but the customer service is what will keep me. The communication from the very beginning was fantastic from the order, to who to contact, to delivery. It was clear and smooth. Thanks for taking great car of us!
K. Welling
Go Mailboxes had the best prices on CBUs and a great no-nonsense website. Ordering was quick and easy and there was excellent communication on the transaction and shipping. If I ever need another mailbox or CBU I will for sure use this company again!
Eric T
Our association purchased two new kiosks and the ordering process went smoothly. We received advance email notices about checking the boxes for damage and delivery was on time. Great company to do business with.
New Breed Ranch Association
Mailboxes from the big box stores were so run of the mill. The ones I considered had to be shipped and past experience has been delivery dates are not always accurate. My project of course couldn't move forward until I got the mailbox. I called the company, the person on the phone was friendly and helpful. He mailed out the one I wanted that day and sent me the tracking number that day. Next purchase is the numbers and it will be definitely from them.
Debbie
In researching standing mailboxes, I decided on this style. Go Mailboxes had the lowest price that I could find online. Ordering was easy and they even called to confirm the features I wanted. It was delivered right away and was not difficult to assemble. I'm 100% Satisfied.
Jan H.
I recently purchased the Gaines Eagle Keystone Mailbox with Deluxe Post- Bronze with Polished Brass. The mailbox set arrived fast and very well packed. It is of very high quality and absolutely beautiful! It was a pleasure buying from Go Mailboxes. Their customer service is fantastic! I strongly recommend this company.
Maria Pospieszalska
got what I needed exactly when they said I would receive it.
Chaparral West Inc
In 2021 we ordered a replacement 13-slot CBU after ours was damaged by a hit-and-run driver. The sales rep was knowledgeable and responsive. The replacement mailbox was delivered at no change and their shipper helped to inspect for damage and missing parts. Everything has been working fine since installation. Would recommend Go Mailboxes!
Fox Pine Subdivision, LLC
I emailed to check on status of an order and they responded very quickly to my inquiry and I received the items in a timely manner.
Very easy to work with and I plan on ordering from them in the future.
TRG Communities
Purchased Keystone mailbox to replace existing. Great customer service answering my questions prior to order, easy order placement via website, good price, and rapid delivery. Definitely recommend.
John C
We have had the pleasure doing business with this company for 2 separate projects. Service was excellent and shipping occurred as promised. I am getting ready to place another order.
Titan Homes NW
I am completely satisfied with the entire experience dealing with this company. Product-a built in Colum mailbox is excellent in all ways-looks great and is precisely built. It came fast and on time, I would recommend to friends and family!!!
William Whitton
We couldn't be happier with our mailbox insert. It is a timeless addition to the exterior of our home. Love the black flag option vs the typical red. Customer service was top-notch, something pretty hard to find these days!
Lori Schoenauer
The sales Rep was very knowledgeable, professional and helpful with our order of cluster mailboxes for our development. The products are well made in the USA and delivered without damages and in a timely manner. We highly recommend Go Mailboxes.
Chester Knoll HOA
Maiboxes are well-made and look great. We had some issues with shipping and small damage and Paul from Go Mailboxes made things right immediately. He was a great help and we plan on going through him again in the future!
Anna
Working with GoMailBoxes was easy, fast and at an excellent price.
They delivered what was promised and we are extremely pleased with our product.
Narrow Gauge Mobile Home Park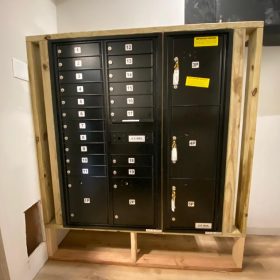 Mr Paul has been an amazing help for our many projects. Listens well, acknowledges needs, act promptly. Picture below is one of many accommodating approach he possesses. .
Looking forward to future businesses.
Sal at Mavi
Mavi Builders
I ordered a couple CBUs from GoMailboxes. There was a little challenge in the order but GoMailbox's resolved the issue and got my order processed in a very timely manner.
The units arrived quickly and in great condition.
Fabulous customer service. I would definitely purchase from them again.
Paul Sorenson
They had exactly what I wanted, best pricing, and quick delivery. It looks beautiful! Love it.
Beth H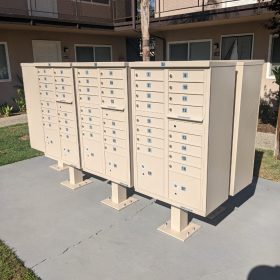 We had two projects that were just completed. A 12 unit and a 105 Unit Apartment buildings.
Everything from A to Z was perfectly orchestrated by them. Great to work with and meet all their time lines.
Best price around. We know because the large project was a quite expensive one and we shopped around for it
for a while.
We highly recommend them.
Thanks to the whole team and specially Paul.
Dean Shabbouei
Hot Spot Rentals
I was able to easily order online, fast shipping, beautiful job installing the address labeling I ordered. A perfect transaction and saved a few bucks.
Alan Ross
I have used Go Mailboxes for over 15 years due to their reasonable pricing and excellent customer service. I manage more than 20 multi tenant industrial and apartment properties in the SF Bay Area. We've had to upgrad most of our CBU units due to security issues. With one small exception, all of our orders have been problem free. And when there was a problem, Go Mailboxes stepped right up and took care of it even though they were not at fault. I never write reviews nor fill out surveys but I highly recommend Paul and Go Mailboxes.
Bob Legallet / Wetblue Associates, Inc
We recently switched to Gomailboxes for our cluster boxes and have been very satisfied. Great customer service and communication. Paul does make you feel like you're his only customer.
Bozman Sign Company
Great product. Delivered on time. Accurate description. Best pricing. Very satisfied. Well made. Would use again.
Ray
Boyd Construction, LLC
Thank you so much for your cooperation in getting us our two mailboxes and paper holders and number plates to match as you can see from the picture they turned out excellent
Jeff and Angela
Great mailboxes. Order to delivery, the process was very smooth. Received the mailbox in time. Very happy with the product quality as well.
Amit C.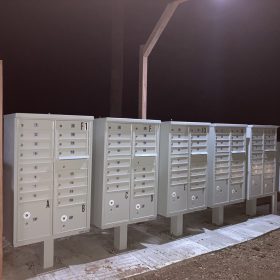 To date we have dealt with Go mail boxes on two separate occasions. On both we have had outstanding follow-up from Paul with very accurate information on shipping and estimated time of arrival. We will be using this company again in the future for all of our needs. Thank you Paul for all your help.
Colorado Mountain Estates POA
Excellent service and assistance, smooth and painless ordering process, thank you, keep up the great job!
Al N.
We needed a replacement mailbox as ours broke (not from this Company and it was over 15 years old). We found a perfect replacement from Go Mailboxes for our current post and it matched up perfectly and was easy to install. Shipping was quick and tracking number provided. Would recommend this Company to family and friends.
Scott S.
Our Gaines Locking 'Classic' Faceplate mailbox looks great in the conrete block column at our entry gate. Paul went the extra mile and helped with recommendations on a coordinating matching bronze metal address plate. We are thrilled and will be glad to make references.
Dory Jones, Grants Pass, OR
Dory Jones
Met all our needs and very responsive to questions.
Westpark Lakes HOA
I shopped around online and made phone calls before ordering. Go Mailboxes not only had the best price, but they answered the phone promptly, answered all my questions about availability of certain colors and told me the exact date the box would ship. It shipped when promised and was an easy delivery and I actually installed it the day it arrived because we were able to pour the slab ahead of time with the instructions downloaded from the internet.
Laura Carson
I was in a huge hurry to get my box for installation, I received great service and the box arrived the next day – It is beautiful and highly functional.
Michele Austin
I ordered a cluster mailbox for a shopping center development from GoMailboxes. I found the price to be the best online. I needed to install the mailbox in a landscape island and Paul Reynolds identified my needs and shipped the anchor materials to me early with specification for slab preparation. The shipping of the cluster mailbox was handled with highest level of care and timeline. The delivery arrived on a pallet undamaged. I am very pleased with service quality provided by this company and I will definitely use their services on future development projects.
TrueVine Realty
Paul, we all want you to know how appreciative we are of your services. You made the order, and delivery so streamlined and professional. Your emails were spot on and thorough leaving no questions
unanswered.
Lloyd from Dominion was a gem. All merchandise was checked by our contractor installing the mailboxes. All parcels came to us unscathed.
Wishing you and yours a blessed Easter.
Thank you, deb
Deb
I am the secretary/treasurer of our HOA and as such, found myself ordering two postal kiosks to replace our dilapidated ancient units. You can't beat the customer service here or the price! Never fear about dealing with gomailboxes, I would give 10 stars if I could.
Crystal Valley HOA
Good Price, great communication
Nick Stepanyuk
Lowest price and great service is a must for me and that's what GoMailBoxes delivered. Paul is great and keeps you up to date with necessary information about your order.
Arteco
Go mailboxes did an excellent job for us.
We had never had to order cluster mailboxes and we did not know what we were doing. Randy was very helpful and made the whole process easy!
Astor Fine Builders
I placed an order with a competitor. The competitor ended up costing more and were unresponsive. Go Mailbox picked up the phone right away and was willing to send out my mailbox the same day. I wish I found Go Mailbox sooner; they are really great to work with!
Russell
This was an excellent experience. Communication was above and beyond and follow through was very welcome. They were always happy to answer any questions I had. We had to replace the middle mailbox ourselves since the post office won't anymore….
Thanks!
Steve Weigel
I ordered a mailbox for residential purposes and had a very smooth professional experience. The delivered all that was said they would do. I wish all purchases would go as smoothly as this one.
Christine Perera
On a 1-5 star rating, I'm giving GoMailboxes.com a 6 star rating for ease, professional service and incredible quick responsiveness and delivery. Blew me away. Thank you.
Mark Goulston
Very happy to have purchased our mailbox through this company. The price was the best we could find, which made me a little nervous since you get what you pay for, but in this case, we definitely got more than our money's worth!
We will be purchasing approximately 50 mailboxes in the coming year and will definitely be repeat customers!
Thank you for your great service!!
Sandy Cobb
I would order again from this company, the product was exactly what I expected. There were no flaws, all parts present, and it is up and in use.
Thanks again.
Rick
Rick McVay
Excellent Service. Susan was very helpful with placing my order over the phone for a Victorian Pedestal mailbox. The price was very good, the shipment and delivery fast and the product arrived in perfect condition.
Linda Stephenson
Within two days we had the Gaines Classic mailbox we wanted. We were thrilled to find this box on your website and then to receive it so quickly was amazing. Couldn't be happier.
Paul was always available to answer questions and was so helpful.
We definitely will recommend this company!
Marsala
I ordered a new Gaines Eagle Keystone Mailbox to replace my 20 year old one that was vandalized. I was very happy with the price and service I received through Go Mailboxes.
Mike Clement
Great mailbox – looks very durable and very easy to install
A Tighe
Very simple and pleasant to do business here. Price for the Imperial mailbox was the best around! I also received a phone call letting me know when to expect delivery, which it came a week before expected. Thank you!
Sal
I bought a similar mailbox from the big box store. The order was delayed for weeks and they didn't have an estimated delivery date. I found Gomailboxes.com on line. I called, Paul answered. I had many questions, he was very patient with me. He even called the vendor to verify one of my questions. I placed the order on Monday and Paul assured me I would get my mailbox by that Friday. Sure enough it was delivered on time. I would strongly recommend this site. It was such a pleasure purchasing from them. By the way the mailbox I got from gomailboxes.com is much nicer and elegant than the one from the big box store.
Liss Salazar
Replacement mailboxes were ordered for my condominium complex with over 100 units. The delivery address had to be changed at the last minute; Paul was able to accommodate my request in an efficient manner. Delivery was on time by a personable truck driver and was received in good condition. It was necessary to contact the company with a question; once again, customer service was excellent. I would highly recommend 'Go Mailboxes' in the future. Virginia R.
Virginia R.
Randy was excellent to work with – he was responsive, professional, and a pleasure to deal with. I'd highly recommend Go Mailboxes.
Reliant Partners
I represented 39 homes in our division. I researched and found gomailboxes.com to have the BEST price. When working with Paul he made this easy. Helped me all the way. Best customer service and best prices. The communication was incredible. 5 Stars all the way!
Michelle Breault
We've used Paul and his company to furnish CBU boxes for two of our apartment complexes. His timeliness and service have been exceptional. I've been able to easily reach him when I have questions. We will use Go Mailboxes for all of our future mailbox needs.
ADK Asset Management
The order came quickly and the product was everything I expected. I highly recommend go mail boxes.
22 Core Construction Inc.
I looked around my neighborhood to see which mailboxes that I liked the best. I stopped at a neighbor's house to ask where they had bought their mailbox. They had ordered a mailbox from Randy. So I went on the Go Mailboxes website and choose a mailbox for our house. Randy helped me order everything and we got the mailbox really fast. It looks so beautiful and it's a bit bigger than our last mailbox so it not only looks stately, but we have more room inside the mailbox so all of our catalogs lay flat. I couldn't be happier!
Sherri S
I bought a replacement mailbox that was the same type. So I was familiar with the product. I searched for it on line and found the best price here. Paul called me to confirm an option on the box before it was sent. It arrived quickly .
Tony
Great product! Well made, fast delivery, exactly as described. A great bonus of including 3 keys.
Best price by far over other companies.
Don Deisler
Our mailbox arrived only a couple of days after we ordered it and it was exactly what we expected. It looks beautiful and definitely stands out as the prettiest one in the neighborhood. Very happy with our purchase!
S. Filos
I ordered this mailbox wanting it to be a trouble free experience and it exceeded my expectation. The shipping was quick and all the pieces were of great quality and fit together just right. It was a very good experience. It's how you hope all the projects you order online will turn out just like this. To top it off the price was very good also.
Charlie G
Intelligently constructed with strong hardware. If only mailmen were made like that. 🥴Mailmen are very hard on the boxes.
JA
Delivery was fast, and the product arrived in perfect condition. It's really a quality item, and we're very pleased with it.
Aaron Groves
We ordered the Keystone mailbox with the deluxe post. The order shipped immediately and we were able to track the order. The mailbox is beautiful and very high quality.
Janet White
Our new mailbox is perfect!
Excellent service, fast shipment!
Lisa Giusti
We're having a column mailbox constructed. It'll be made of a white country rubble stone, and there's no way that I'd tolerate rust streaks. The Manchester mailbox fit our needs perfectly. It's cast aluminum faceplate can't rust, and the lining will hold a week's worth of mail, or several small packages. The pineapple appliqué reminds us Charleston's Pineapple Fountain, a city that is dear to us.
Jonathan Robinson
Great price, fast delivery, good support.
Matt Daneman
Outstanding Company – I recently ordered a locking mail box and Paul immediately saw that I had made a mistake and called me. This one little simple attention to detail and followup by Paul saved me time and money. I got the box I wanted because of Paul and his attention to detail and commitment to customer satisfaction.
Mike
No wonder they've been in business 30 years-Solid company. Prices are the BEST. And they saved me almost $1000 in a reshipment fee due to me giving the wrong phone number at order entry.
Gomailboxes went out of their way to contact me and keep the carrier from returning to sender! That's the reason why they've been in business 30 years. Customer service is always number one for me. But when you have customer service AND the best pricing, they can't be beat! Glad I found them!
JFP Properties
Touch Of Class – Very elegant and rarely seen in our neighborhood the Gaines Fleur De Lis keystone mailbox is just what we were looking for to set us apart from the 100's of mailboxes we've seen driving around our city.
David Sheppard
Not only was the mailbox exactly what we needed but it arrived the next day. Fantastic.
R Harris
CBU Pricing – We spent ours looking for the best pricing for Florence Cluster Mailboxes on line. Every time we thought we had found a better price we were proven wrong. Some of their competitors would either charge for the pedestal, shipping, lift gate or residential delivery, in some cases all 4. Go Mailboxes includes all 4 services for the lowest advertised price and the order was delivered on time with emails sent every step of the ordering process to delivery.
Maria Esposito - Hill Construction LLC
Excellent Product – Excellent Customer Support – During our search for quality CBU's for USPS delivery at our condo developement in Tennessee, we found GoMailBoxes.com online. Our preference is to talk with a person, so we called and spoke with Paul. He was very patient in helping us find the right products for our needs. Even after the initial sale, we called back a couple times, and received outstanding customer support over the phone. Great product, great support, great price!
Bob @ Old Capitol Town Condos
Old Capitol Town Condominiums
Many Years – I have been working with Paul and Go mailboxes for some 15-years. I have never been disappointed with the their service nor the products. We have worked through shipping & timing issues but I always felt like I was their only customer!
Mitch Marrott
We are moving and needed a new mailbox. Ordering on line was super easy. The representative explained all the available options and reviewed the entire order to ensure it was what we wanted. Items arrived within a week in perfect condition.
Janice B
We ordered four 1570-16 CBU units , we received an email the next day with the ship date and the order arrived on time. Go Mailboxes has great customer service and the lowest price we could find.
Dave Lawrence
They were very helpful with placing my order over the phone, I would highly recommend this company to a friend.
Jim Reed
Great Service – Our order shipped the next day and we were emailed the UPS tracking number which arrived when promised
Kathy Williams
This company handles problems and serves their customers like the old days and understands, the customer is also right. I ordered the wrong CBU and they replaced it with the correct one and paid for shipping both times. It was my fault but they paid for my mistake anyway.
Tom Smith
These people go the extra mile. Excellent service and support.
Jack McDonald